Welcome
Welcome to Beech House Surgery
We are a 4 Partner GP Practice based in the heart of Knaresborough, North Yorkshire providing high quality NHS primary care services to our registered practice population.
Our clinical team is made up of many different roles, including (but not limited to) GPs, Advanced Nurse Practitioners, Nurse Practitioners, Practice Nurses, Health Care Assistants, First Contact Physiotherapists, Clinical Pharmacists, Pharmacy Technicians, Health and Wellbeing Coaches, Social Prescribers, Community Midwives and more.
We strive for clinical excellence and we are very proud to be a training practice - we have GP Registrars, Foundation Doctors and Medical Students working as part of our team.
Behind the scenes we have a comprehensive management team that includes Medical Receptionists, Dispensers, Medical Administrators, Medical Secretaries, Practice Management etc.
Please note that calls are recorded for training and monitoring purposes.
Extended Opening Hours - From 1/7/21
Extended hours surgeries are intended to accommodate those people who cannot easily attend the surgery during the week. We respectfully ask patients who are able to attend during normal surgery hours to reserve these extended hour surgeries for those who are unable to do so.
Monday 6:30pm to 7:30pm - Weekly telephone appointments with GP's. (NB: The phones are not on during extended hours surgeries)
Saturdays: First Saturday morning of each month. (NB: The phones are not on during extended hours surgeries).
When we are closed.....
Our next closure will be the 19th September 2022
The surgery is closed on normal Bank Holidays and approximately six afternoons per year for staff training. When the Surgery is closed, call NHS 111 for non-medical emergencies and 999 for medical emergencies (including chest pains and shortness of breath).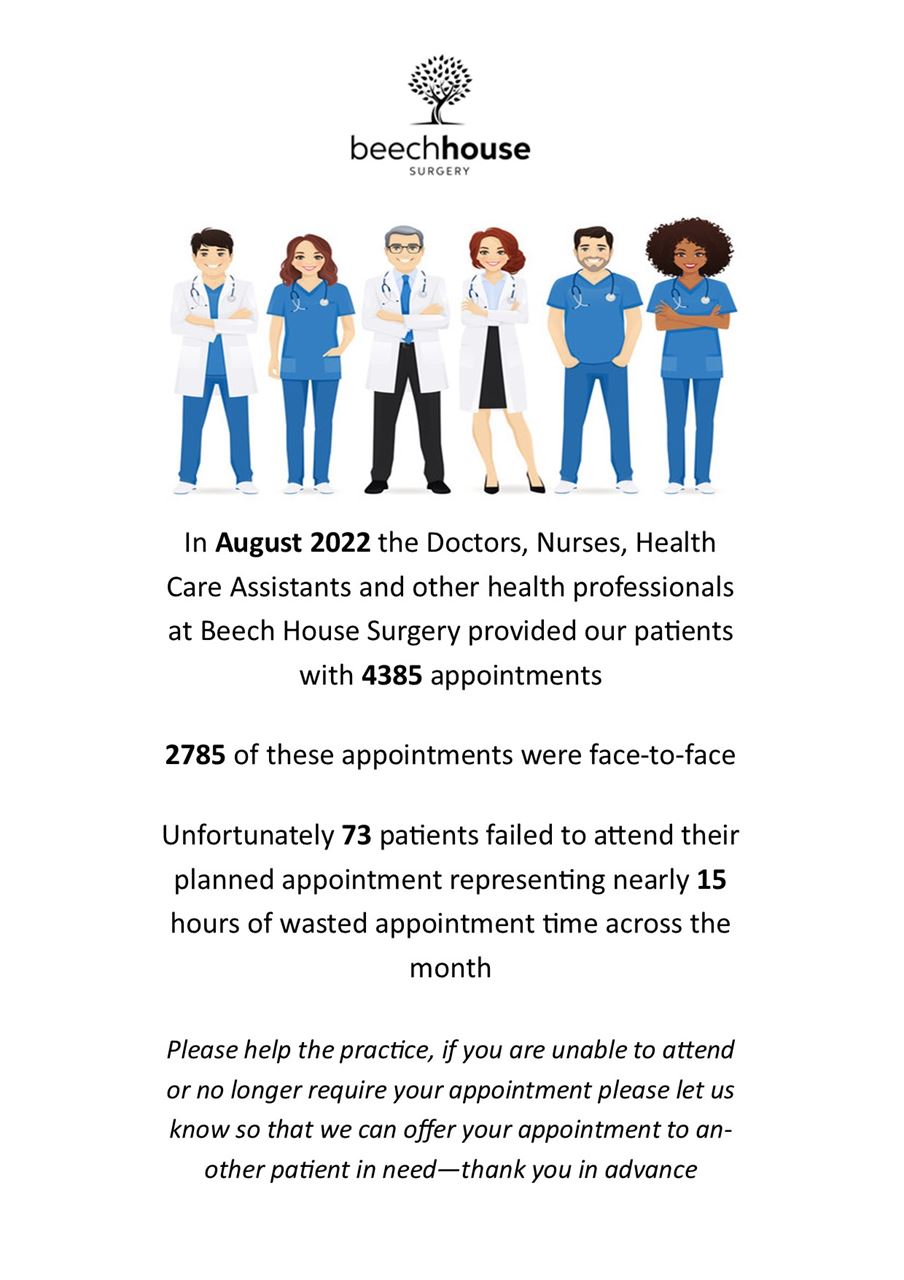 Covid Vaccinations
Update 21.9.21
Please do not contact the surgery regarding Covid Boosters. NHS UK are contacting patients direct and inviting them to book into Covid booster vaccine centres. Please call 119 rather than the Practice if you don't receive your invitation when expected.
Covid Vaccination 3rd Dose for Immunosuppressed Cohort
The government has identified a group of patients who should receive a third dose of vaccine as part of their initial vaccination programme. These are patients with severe immunosuppression around the time of their first or second COVID-19 vaccine doses. These patients are currently being identified by their GPs and hospital consultants and will be contacted shortly to come forward.
More information on the specific medical condition associated with immunosuppression can be found at:
https://www.gov.uk/government/publications/third-primary-covid-19-vaccine-dose-for-people-who-are-immunosuppressed-jcvi-advice/joint-committee-on-vaccination-and-immunisation-jcvi-advice-on-third-primary-dose-vaccination
VACCINATION STATUS CERTIFICATION
From 17th May people in England who have had both vaccine doses will be able to demonstrate their status via the NHS App. Those without access to the app can request a letter from the NHS proving their vaccination status by calling 119. The Practice will refer queries from patients to the referred to sources above.
Patient Practice Group Signup
Patient Practice Group Contact Form
Patient Practice Group Minutes Archive